Uniwell Lynx allows you to setup multiple Uniwell POS terminals for use with the software. To enable the POS terminal/s and software to 'talk', settings in both must be correctly setup. The following instructions will help you to do this.
Setting up the POS Terminal
First you will need to configure the IP address.
Sign On to your POS Terminal
Go to Configure
Then go to POS Setting
Enter an IP Address and Subnet Mask
Note: Your Uniwell POS Terminal and your PC should be on the same subnet
Now you will need to configure the FTP server.
Sign On to your POS Terminal
Go to Configure
Then go to FTP Setting
Go to the Server tab
Enable User 1
Enable all options in the Level box for User 1
Note: After configuring the above options you will be prompted to Restart your terminal.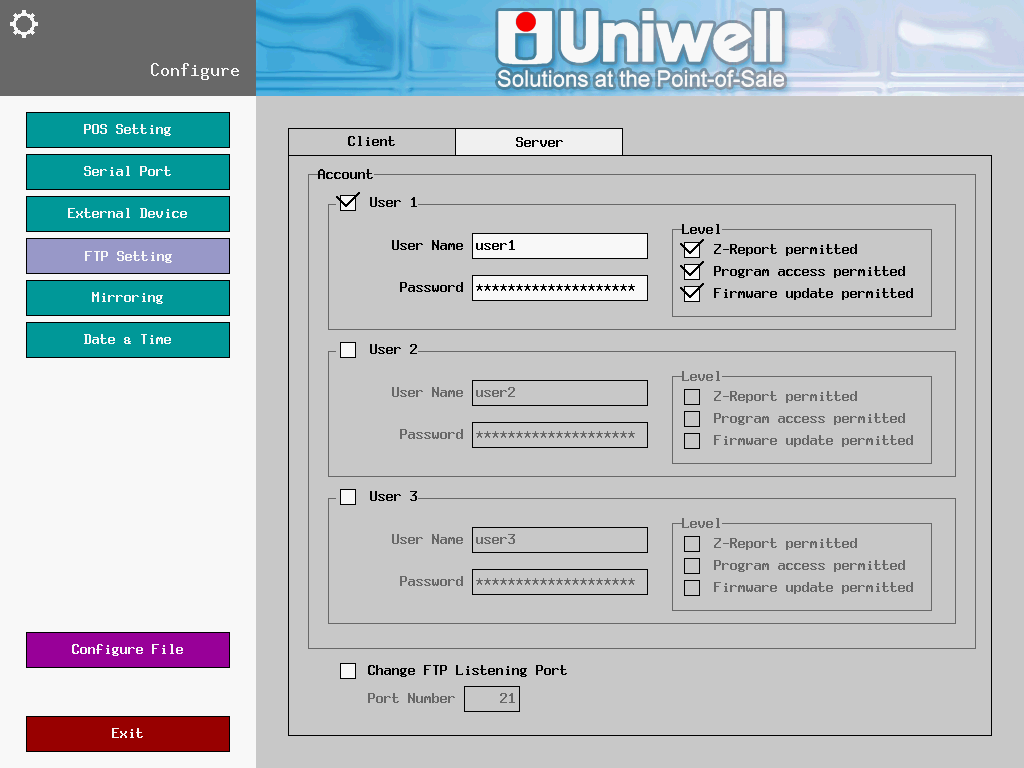 If you want to extract Journal Data for the Electronic Journal report in Uniwell Lynx then you will also need to enable this in the Uniwell POS Terminal.
Note: The instructions below are for HX series POS terminals. Please consult with your Uniwell Dealer if you are using AX series POS terminals.
Sign On to your POS Terminal
Go to Program
Then go to System > System Option > Journal Data
Enable the Journal Data is used option
Setting up Uniwell Lynx
First you will need to add your POS terminal into Uniwell Lynx.
Go to the Data menu and select POS Terminals
Click the Add button
Enter a Description for your POS terminal
Select the Model and Firmware Version
Set the Connection to FTP
Enter the IP Address, Username and Password
Set the Send Program Selection and Collect Sales Options as required
Hint: Press the F1 key for more information about the options on this screen
Communications Test
To check that your POS terminal and Uniwell Lynx are communicating correctly, you can run a Communications Test.
Go to the Communications menu and select Communications Test
Select the POS terminal you wish to test
Click the Ok button